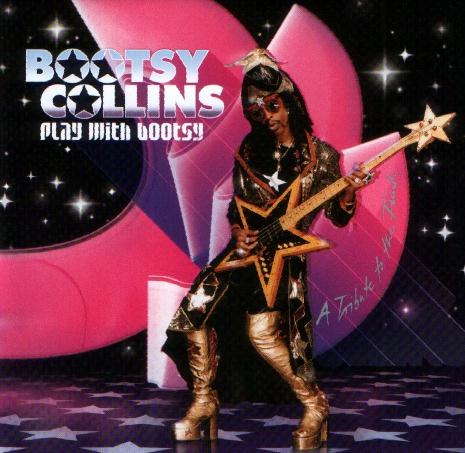 William "Bootsy" Collins (born October 26, 1951 in Cincinnati, Ohio) is a pioneering funk bassist, singer, and songwriter.
Birth name - William Collins
Born- October 26, 1951 (age 55), Cincinnati, Ohio, USA
Genre(s) - Funk, Soul
Occupation(s) - Musician, Songwriter
Instrument(s) - Bass guitar, Vocals
Associated acts - The JB's, Parliament, Funkadelic, Bootsy's Rubber Band
Notable instrument(s) - Space Bass
Early career
With his brother, Catfish Collins, and Kash Waddy and Philippe Wynne, Collins formed a group called The Pacesetters in 1968. Until 1971, the Pacesetters were the backing band for James Brown, and were known in that context as The JB's.
Brown fired Collins after the latter suffered LSD hallucinations on-stage. It is known that the young Bootsy clashed several times with the rigid system Brown used to discipline the young band whenever he felt they stepped out of line. After leaving the band Collins then moved to Detroit, following the advice of singer and future Parliament member Mallia Franklin.
P-funk and Rubber Band
Franklin introduced both Collins brothers to George Clinton, and 1972 saw both of the Collins brothers, along with Waddy, join Funkadelic. Bootsy played on most of their early albums, garnering several songwriting credits as well. His bass playing was hard, driving and rhythmic, and has been very influential in the development of Funk, Heavy Metal and Soul music. Bootsy's characteristic watery sound, produced by envelope filters, is one of his distinguishing traits as a bass player.
Like Clinton, Bootsy took on several aliases, from "Casper the Funky Ghost" to "Bootzilla, the world's only rhinestone rockstar monster of a doll" as part of an ever-evolving character, an alien rock star who grew gradually more alien, bizarre and flashy as time went on (see P-Funk mythology). He also adopted his trademark space bass around this time. Bootsy, Catfish, Waddy, Joel Johnson, Gary 'Mudbone' Cooper, Robert Johnson and The Horny Horns formed Bootsy's Rubber Band in 1976, the character of Bootsy evolved into a rhinestone-bedecked, flashy rock god.
Bootsy's Rubber Band is a part of the P Funk umbrella of bands. Most of Bootsy's albums in the post-Parliament and Funkadelic days were released under the name Bootsy's Rubber Band, though he also released an album in 1980 under the name Sweat Band. The first three albums of Rubber Band released in years 1976, 1977 and 1978 are often considered to be among the essential funk recordings.
Later times
In 1984, Bootsy collaborated with Jerry Harrison of Talking Heads to produce "Five Minutes", a dance record sampled and edited from Ronald Reagan's infamous "Five Minutes" speech. The record was credited to "Bonzo goes to Washington".
In 1990 Bootsy collaborated with Deee-Lite on their massive hit "Groove Is In The Heart" where he contributed bass and additional vocals. He also appeared in the music video, while Bootsy's Rubber Band became the defacto backing musicians for Deee-Lite during a world tour.
Bootsy collaborated with bluegrass legends Del McCoury, Doc Watson and Mac Wiseman to form the GrooveGrass Boyz. They produced a fusion of bluegrass and funk that listeners either loved as a fresh take on tradition or hated as defiling that same tradition.
Bootsy has collaborated extensively with Bill Laswell and made appearances on two Fatboy Slim records. Bootsy provided "vocal spice" on the TobyMac album Welcome to Diverse City. He also appears on Nicole C. Mullens' latest album, "Everyday People". He has also worked with Praxis, and with Buckethead on several occasions, for example on Buckethead's first album, "Bucketheadland". Bootsy was featured in the 2002 film Standing in the Shadows of Motown.
In 2005, Bootsy Collins added vocals to fellow bassist Victor Wooten's album Soul Circus. He also served as "Heineken's Amsterjam 2005" curator and master of ceremonies on Randall's Island, New York and appeared with Madonna, Iggy Pop, Little Richard, and The Roots' ?uestlove, in an American TV commercial for the Motorola ROKR phone.
Collins' signature instrument is a custom-built star-shaped bass guitar he calls the "Space Bass". Currently built for him by Manny Salvador of GuitarCraft in 1998. More recently, Collins has made an agreement with Traben to make a signature Bootsy Collins model bass called the "Bootzilla".
In October, 2005, Collins co-wrote a song celebrating the resurgence of his hometown team, the Cincinnati Bengals of the National Football League called "Fear Da Tiger" which features "raps" written and performed by several Bengals players, including defensive end Duane Clemons, offensive tackle Stacy Andrews, and center Ben Wilkerson. An edited version of the song was made into a music video which features cameos by many other Bengals players. It has garnered tremendous local airplay and is viewable on Bengals.com Additionally, Cincinnati Bell is offering "Fear Da Tiger" as a free ringtone for its wireless customers in both polyphonic and MP3 formats.
He also sings "Marshal Law", the theme song of the Cincinnati Marshals indoor football team. He debuted the song on April 29, at halftime of a Marshals home game against the West Palm Beach Phantoms.
In 2006 ABC Entertainment / A Charly Films Release released a DVD/CD from Bootsy Collins and the New Rubber Band's concert at the 1998 North Sea Jazz Festival.
In 2006 Collins split from long-time friend and guitarist Gormley, citing creative differences as the reason.
Currently, Bootsy is producing the funk band Freekbass from Ohio.
Freekbass has many members, including Thadeus Eirich of Cumberland, Maryland, who, every weekend makes the trip to Ohio for practice. Thad is a guitarist/personality for the band.
Discography
Year Artist/Band Album
1976 Bootsy's Rubber Band Stretchin' Out in Bootsy's Rubber Band
1977 Bootsy's Rubber Band Ahh... The Name Is Bootsy Baby
1978 Bootsy's Rubber Band Bootsy? Player of the Year
1979 Bootsy's Rubber Band This Boot is Made for Fonk-N
1980 Bootsy Collins Ultra Wave
1980 Sweat Band Sweat Band
1982 Bootsy Collins The One Giveth, the Count Taketh Away
1988 Bootsy Collins What's Bootsy Doin'?
1990 Bootsy's Rubber Band Jungle Bass
1991 Bootsy Collins Save What's Mine for Me
1994 Bootsy's New Rubber Band Blasters of the Universe
1994 Zillatron Lord of the Harvest
1995 Bootsy's New Rubber Band Keepin' Dah Funk Alive 4-1995
1997 Bootsy Collins Fresh Outta 'P' University
1998 Bootsy's Rubber Band Live in Louisville 1978
2002 Bootsy Collins Play With Bootsy
2006 Bootsy Collins and the New Rubber Band Live In Concert 1998
2006 Bootsy Collins Christmas Is 4 ever
Trivia
In The Fresh Prince of Bel-Air episode, "Sooooooooul Train", Geoffrey sneaks into the Soul Train tapings posing as Bootsy Collins.
His music has also been featured in the movie Baby Boy.
In the Mighty Boosh episode The legend of Old Gregg a creature named 'The Funk' lands on Bootsie's house,giving him his ability to play the bass guitar.
External links
*
Official Homepage
Bootsy Collins´ official homepage, currently under construction (December 2006)
*
SuicideGirls interview with Bootsy Collins
by Daniel Robert Epstein
*
Bootsy Collins at the All Music Guide
*
MoreThings
Bootsy Collins Photo Gallery