Hi guys. I thought I'd share with you what Ive been up to for the last couple of days. Disclaimer: this is a guitar, although I cannot play and dont intent to. Everything here appliues to bass.
I wanted a new project, and saw this on trademe for just over $100.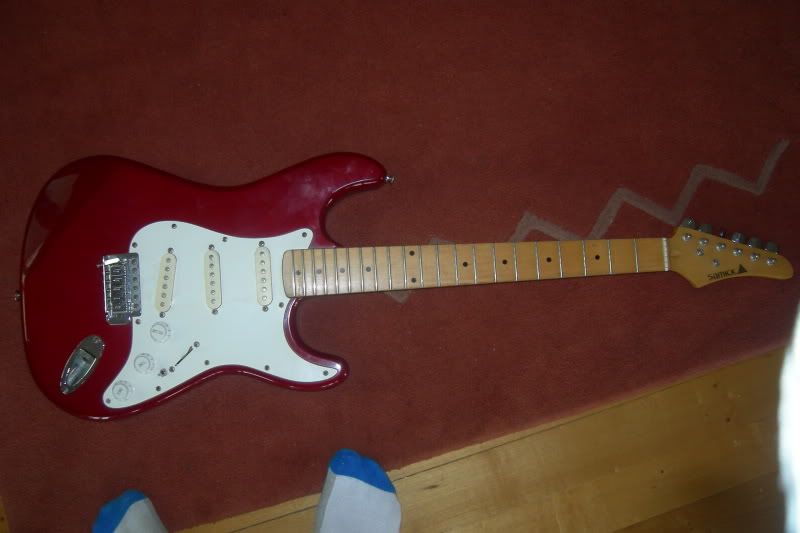 Ten minutes later...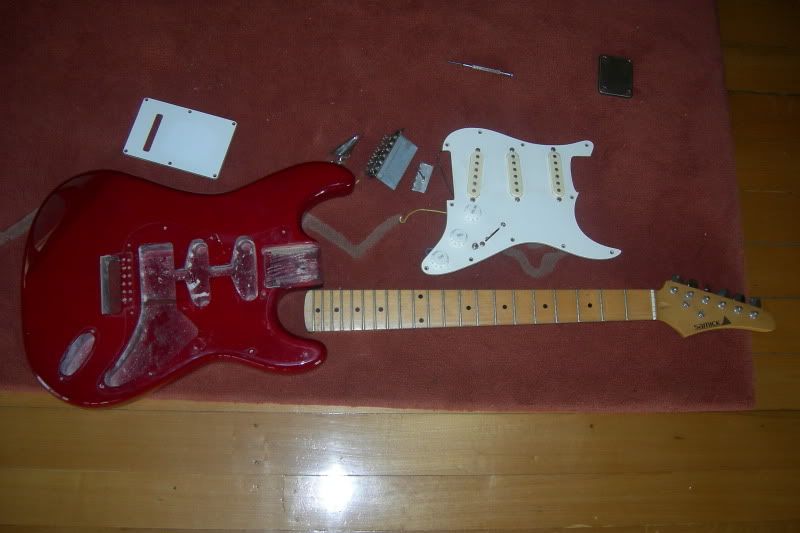 Sanded and primed. About two hours work. The trick here is to not to attempt to sand to bare wood. It is a waste of time. I just roughed it up with 180 grit sandpaper. Important is to get at least one coat of sealer/primer on. I done three I think. Also- a thing to remember is to tape up the neck cavity. Otherwise with a dozen layers of plaint your neck isnt going to fit in. Its hanging with a clotheshook held up by bailing twine...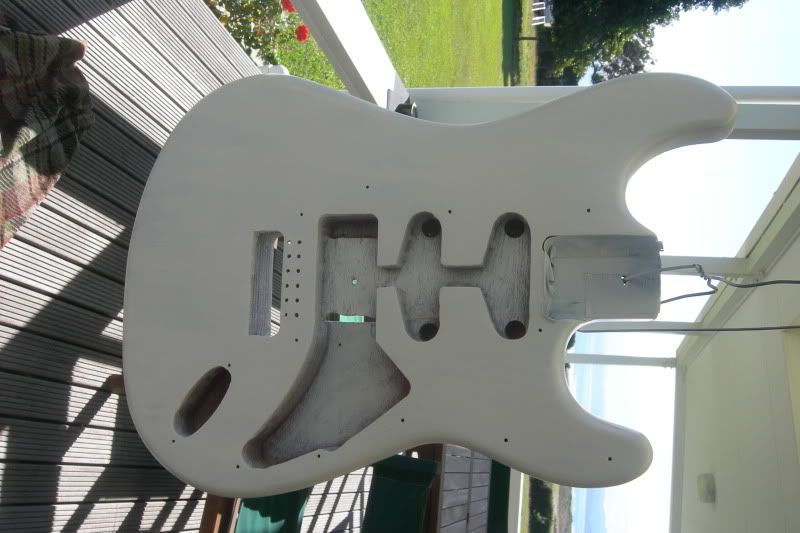 Then go to mitre 10 and buy a can of spray paint. Whatever color, I used white gloss. Read the instructions on the can and sand properly between coats. No need to sand with the grain, I prefer to sand in little circles.
Note the blutack in the truss rod cavity to stop paint getting in.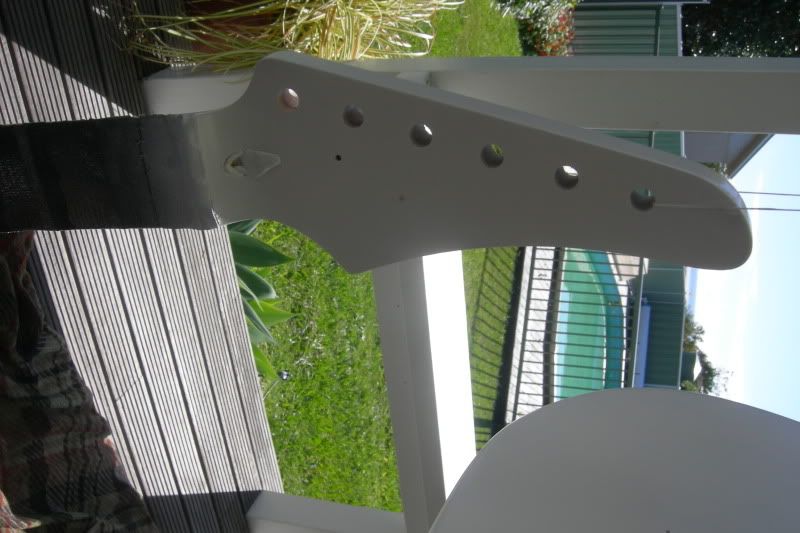 3 or four coats later I was happy with the finish. Back to Mitre 10 for some test pots and some more sandpaper. A little common sense is advised here. I took the guitar onto the lawn. Its water based paint. This is the fun part. No need for instructions its pretty self explanatory.. First round of splatter: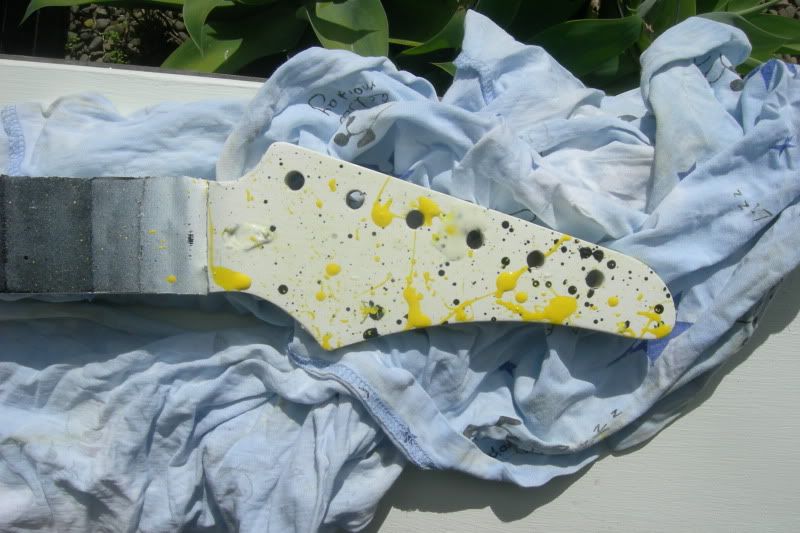 Second round:
The fretboard was looking pretty tired, so i sanded and oiled it. 400 and 800 grit sandpaper. After: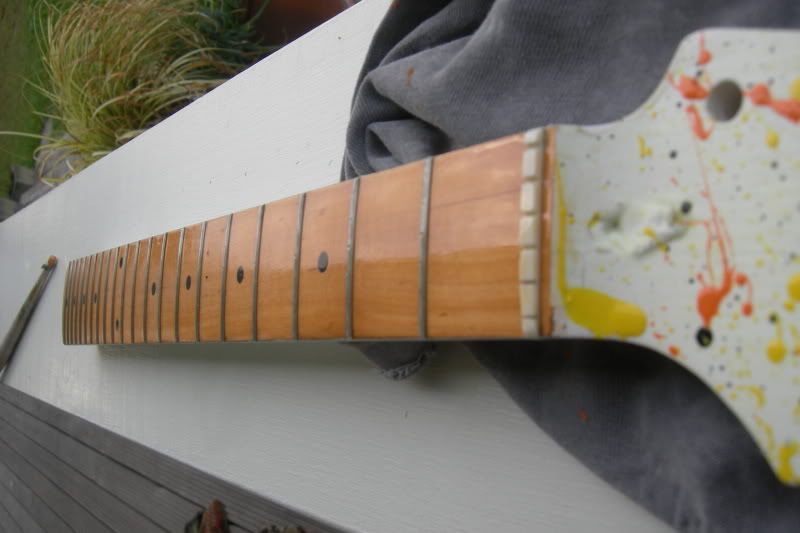 When I get back to Wellington I will be doing the clear coats, fret leveling and full set up.
This is a final shot put back together (but without tuners'-waiting until I put the clear coat on)
Overall this project took me three days from start to finish in my spare time. It will be going on trademe as soon as the final coat of clear has dried
. I have no use for a guitar. Have a go at it guys-its a lot of fun-worst case scenario is you sand it all off and start again. This project cost just over $50 in paints and sandpaper.
Thanks for looking