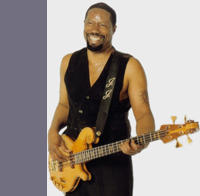 Jerry Jemmott, born Gerald Joseph Stenhouse Jemmott (1946) is an American bassist.
Also known as Gerald "Fingers" Jemmott, Rasan Mfalme or "the Groovemaster", Jemmott was one of the chief session bassists of the late 1960s and early 1970s, working with a veritable who's who of the periods most well known soul, blues, and jazz artists.
Jemmott, who grew up in New York City, began playing the bass when he discovered Paul Chambers at age ten. Jemmott began his professional career by age 12, and was discovered by saxophonist King Curtis in 1967. With his connection through Curtis to Atlantic Records, Jemmott was soon recording with other Atlantic recording artists including Aretha Franklin, Ray Charles, Wilson Pickett, The Rascals and Roberta Flack. Jemmott also recorded with noted blues artists including B.B. King, Freddie King, Chuck Berry, Otis Rush, Champion Jack Dupree, and backed jazz artists Herbie Hancock, Freddie Hubbard, Erroll Garner, Les McCann, Eddie Harris, Houston Person, George Benson, Archie Shepp, Lionel Hampton, Herbie Mann, Eddie Palmieri, and Charles Earland.
After Jemmott's recording sessions started to decline in 1975, he continued to work in film and theater as an arranger and conductor, working with John Williams, The Boston Pops, and Bette Midler.
Most recently, Jemmott recorded solo recordings for the Japanese P-Vine Records, Caught in the Low Beam and The New York View, as well as Make It Happen! for Whatcha Gonna Do Records.
Jemmott continues to work as an educator teaching workshops and clinics, has written articles, four books, and released audio and video bass instruction material.
He played the bass line for the original recording of Mr Bojangles.
Jemmott was cited as a major influence by jazz bass legend Jaco Pastorius, who incorporated Jemmotts stuttering funk basslines into his own syncopated style. He was also included in the instructional video released by Jaco Pastorius dubbed "Modern Electric Bass".
Jerry Jemmott received the 2001 Bass Player Magazine's Lifetime Achievement Award.
Discography
http://www.jerryjemmott.com/disco.html
References
*
http://www.jerryjemmott.com/